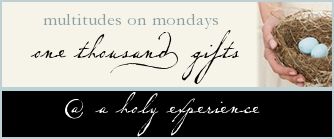 My Gift List Week 2......
#11-20
Resurrection Sunday
Brothers and Sisters
Friends enjoying a shared meal together
Beautiful Celtic music
The sweet voice of Sam
The Cross
Jacob making Stephen laugh
Singing in the Choir
Blueberries
Sarah's blessing for the food (Lord, Our food, Amen so sweet).
Go to the bottom of my blog to my playlist and find the new Chickfila song by Johnny Diaz its so funny!!!